Learn about Trancend's Rewards System!
You know what being a repeating customer of Transcend Cards gets you? Yes, it does get you cheap stuff to build your decks, but no, I'm not talking about that. I'm referring to loyalty points, rewards points, points that gets you more bang for your buck in the long run. You can check out the earning system below!
If you have any questions, we are standing by to help. This is just our way of letting you know that all of your contributions are appreciated!
Transcend Cards Team
How to join?
Register for the Reward Program by click in the Rewards launcher in the corner of the website and click on Join Now, you will be direct to a page where you can Login or Create a new Customer Account.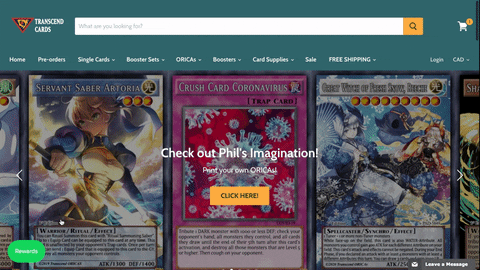 How to earn points?

Ways to earn points

Redeem points
How to redeem points
To turn points into a reward, you will need to log into your account on your site, then click on the launcher to open the rewards panel.
Next, click on All rewards.
If they don't have enough points to redeem, they'll see a progress bar on the right, next to the reward name.
If you do have enough points, there will be a Redeem button. 
Upon clicking redeem, you will be taken to a page that shows the coupon code with a button to Apply code which will automatically apply that coupon code to the checkout
Or you can copy the code and apply at check out gate.
Frequently Asked Question
Q: I placed an order but I haven't gotten points for it!
A: Please check if you had logged in your account. Always start with logging in, otherwise you cannot access your Points!
Q: Is Loyalty Rewards Program free to join?
A: Yes! Simply sign up
here
 and enjoy exclusive offers, complimentary treats and much more!
Q: Can I track my Rewards account online?

A: Yes! Log into your account on Transcend Cards, then click on the launcher at the right bottom corner and visit Your Rewards to check your reward status.
Q: How many times can I use each way of earning points?
A: For every dollar you spend, you earn 2 Reward point, without limitation. Sign up, share on Facebook, Like Facebook page are 1 time offer. 
Q: Can I use points to place a pre-order?
A: Yes you can, however, we do not redeem your points if we couldn't fulfill your pre-order singles. In order to secure your discount, we suggest you use it towards released and available products in our store.
Q: How do I update my address information?